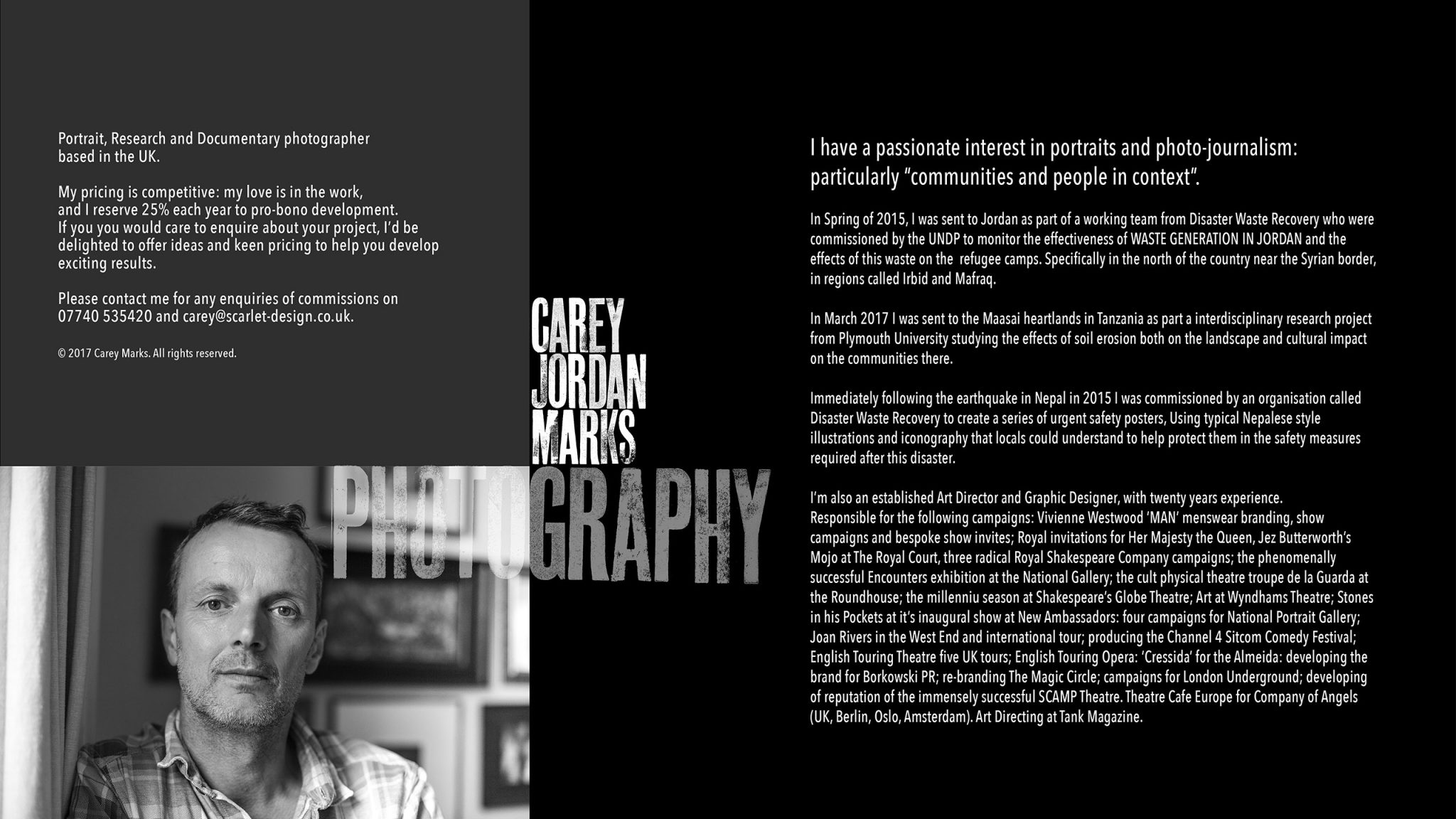 14 Jun

CareyMarks_Photographer-HOME

Art Director and Photographer – Portrait, Research and Documentary specialist.

I help people visualise their stories and help bring them to life.

In Spring of 2015, I was sent to Jordan as part of a working team from Disaster Waste Recovery who were commissioned by the UNDP to monitor the effectiveness of WASTE GENERATION IN JORDAN and the effects of this waste on the refugee camps. Specifically in the north of the country near the Syrian border, in regions called Irbid and Mafraq. In March 2017 I was sent to the Maasai heartlands in Tanzania as part a interdisciplinary research project from Plymouth University studying the effects of soil erosion both on the landscape and cultural impact on the communities there.
Immediately following the earthquake in Nepal in 2015 I was commissioned by an organisation called Disaster Waste Recovery to create a series of urgent safety posters, Using typical Nepalese style illustrations and iconography that locals could understand to help protect them in the safety measures required after this disaster.

I'm also an established Art Director and Graphic Designer, with twenty years experience.
Responsible for the following campaigns: Vivienne Westwood 'MAN' menswear branding, show campaigns and bespoke show invites; Royal invitations for Her Majesty the Queen, Jez Butterworth's Mojo at The Royal Court, three radical Royal Shakespeare Company campaigns; the phenomenally successful Encounters exhibition at the National Gallery; the cult physical theatre troupe de la Guarda at the Roundhouse; the millennium season at Shakespeare's Globe Theatre; Art at Wyndhams Theatre; Stones in his Pockets at it's inaugural show at New Ambassadors: four campaigns for National Portrait Gallery; Joan Rivers in the West End and international tour; producing the Channel 4 Sitcom Comedy Festival; English Touring Theatre five UK tours; English Touring Opera: 'Cressida' for the Almeida: developing the brand for Borkowski PR; re-branding The Magic Circle; campaigns for London Underground; developing of reputation of the immensely successful SCAMP Theatre. Theatre Cafe Europe for Company of Angels (UK, Berlin, Oslo, Amsterdam). Art Directing at Tank Magazine.

My pricing is competitive: my love is in the work, and I reserve 25% each year for pro-bono development. If you you would care to enquire about your project, I'd be happy to start with a chat to help you develop ideas for your project.

Please contact me for any enquiries of commissions on 07740 535420 and carey@scarlet-design.co.uk.

© 2017 Carey Marks. All rights reserved.